The obverse design of the coin features a draped and cuirassed bust of Phocas facing forward and wearing a crown topped by a cross while holding a globus cruciger in his right hand and the reverse design of the coin features an image of an Angel standing and facing forward while holding a staff topped by a staurogram and a globus cruciger. This coin was minted by the 6th officina of the Constantinople mint from 604 to 607 A.D. and has the "CONOB" mintmark on the reverse of the coin. This coin is listed as S 618 in Sear's Byzantine Coins And Their Values. This coin weighs 4.35 gms. The coin is in Mint State (uncirculated) condition and has been certified and graded by NGC with a grade of MS with a Sub-Heading of Strike:5/5 & Surface:2/5. The only detractions on this coin are that it has light scratches in the upper obverse field and it has been slightly clipped around the time it was minted.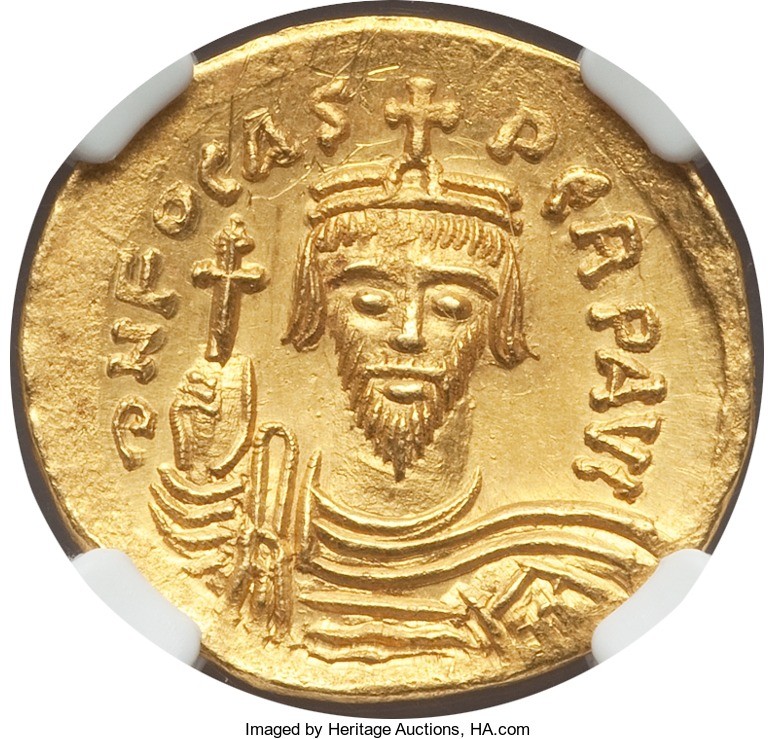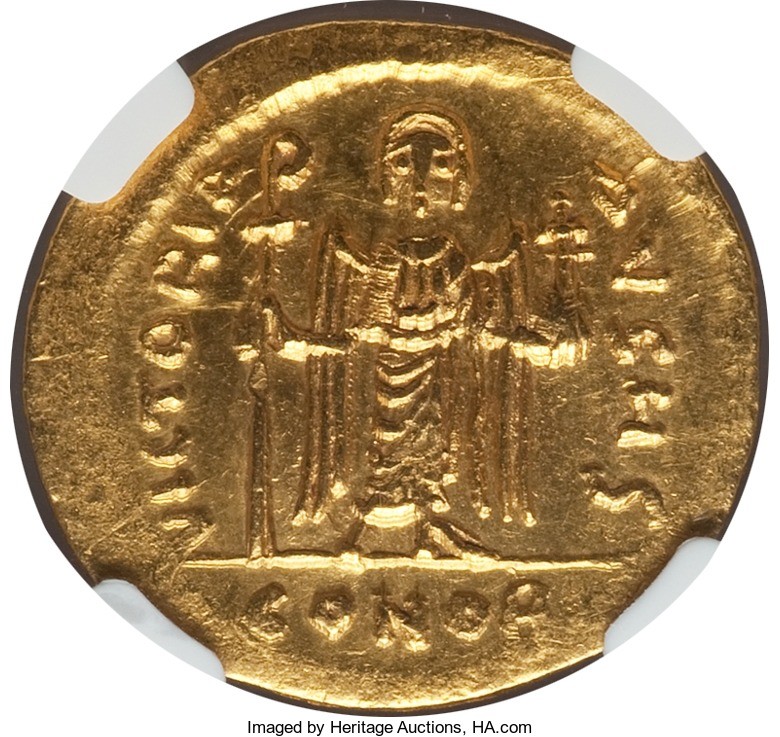 Я обычно не покупаю золотые монеты (считаю, что на них я не зарабатываю, кроме того, они значительно меньше серебряных). Но этот солид хотел купить, потому что изображение императора служило прoобразом для омеядских халифов, чеканивших медные монеты в VII веке, после захвата Палестины. Омейяды тогда либерально относились к изображениям (вспомните дворец Хишама в Иерихоне, кто бывал там). Но все же изображение крестов феноминально для мусульман.


Омейядский Халифат, бронзовый фалс 21 mm (3.20 grams). Чеканка Химс (Хомс, Эмесса), ок. 670-690 A.D. Бюст императора в короне, держащего державу, K/AL/O/N (= «благо») слева, bi-hims (=в Хомсе) справа. Большая буква М означает 40 (численное значение по гематрии), E/M/I — C/H/C (=Эмесса), tayyib (= «годно»).