Я тут некоторое время задавал вопрос, который почему-то вызывает раздражение у биохимиков: как липидная наночастица (с мРНК вакциной) проникает в клетку?

Я почему-то думал, что это очень простой вопрос - проникают ли липосомы в клетки - который проходят в "Биологии 101" для первокурсников.

Оказывается - нефига. Липосомы вообще открыли только 50 лет назад! Как такое может быть? Множество химических вещей и молекул открыли еще в XIX веке. А тут речь о больших, простых и распространенных объектах, в эпоху когда уже давно были электронные микроскопы, когда уже были открыты ДНК и другие сложные вещи?!? Ну ладно.

Так вот, проникает ли липосома через клеточную мембрану, похоже, науке толком непонятно до сих пор.
https://www.ncbi.nlm.nih.gov/pmc/articles/PMC4324542/
"When a liposome interacts with a cell, the delivery of the drug and its distribution in the target cell can occur in several ways. Liposomes can adsorb into the membrane of cells, where the lipid bilayer of the carrier is degraded by enzymes, such as lipases, or by mechanical strain. This leads to the release of the active ingredients into the extracellular fluid, where they can diffuse through the cell membrane and cytoplasm. However, the latter process cannot easily occur when the loaded molecules are hydrophilic. A second way requires the fusion of the liposomal membrane with the plasma membrane of the target cell: this phenomenon causes the release of liposomal content directly into the cytoplasm. The third and most frequent way is receptor-mediated endocytosis. This process only regards vesicles of a maximum diameter of 150 nm and active ingredients that can endure the acidic environment of lysosomes, where liposomes are enzymatically processed. Phagocytosis can also occur, but involves liposomes of a diameter larger than 150 nm. These large liposomes are phagocytosed by specialized cells of the immune system, such as macrophages, monocytes, and Kupffer cells (Figure 3)"


The mechanism and extent of liposome–cell interaction is strongly influenced by the nature and density of the charge of the liposomes surface. By changing the lipid composition, both of these parameters can be modified. The liposomes can include charged components that confer them an overall neutral, positive, or negative charge. Lack of surface charge (neutral liposomes) increases the aggregation of liposomes, reducing their physical stability. Moreover, neutral liposomes do not interact significantly with cells, and this causes drug release from the liposomes in the extracellular space.118,119 On the other hand, charged liposomes present numerous advantages compared with neutral liposomes. For example, the presence of a charge on the surface induces electrostatic repulsion among liposomes by creating a ζ-potential, positive or negative, that prevents their aggregation and flocculation. Moreover, a high electrostatic surface charge could promote the interaction of liposomes with cells.

Ну а про мРНК вакцины вообще никакой ясности.

"The promise of mRNA vaccines: a biotech and industrial perspective"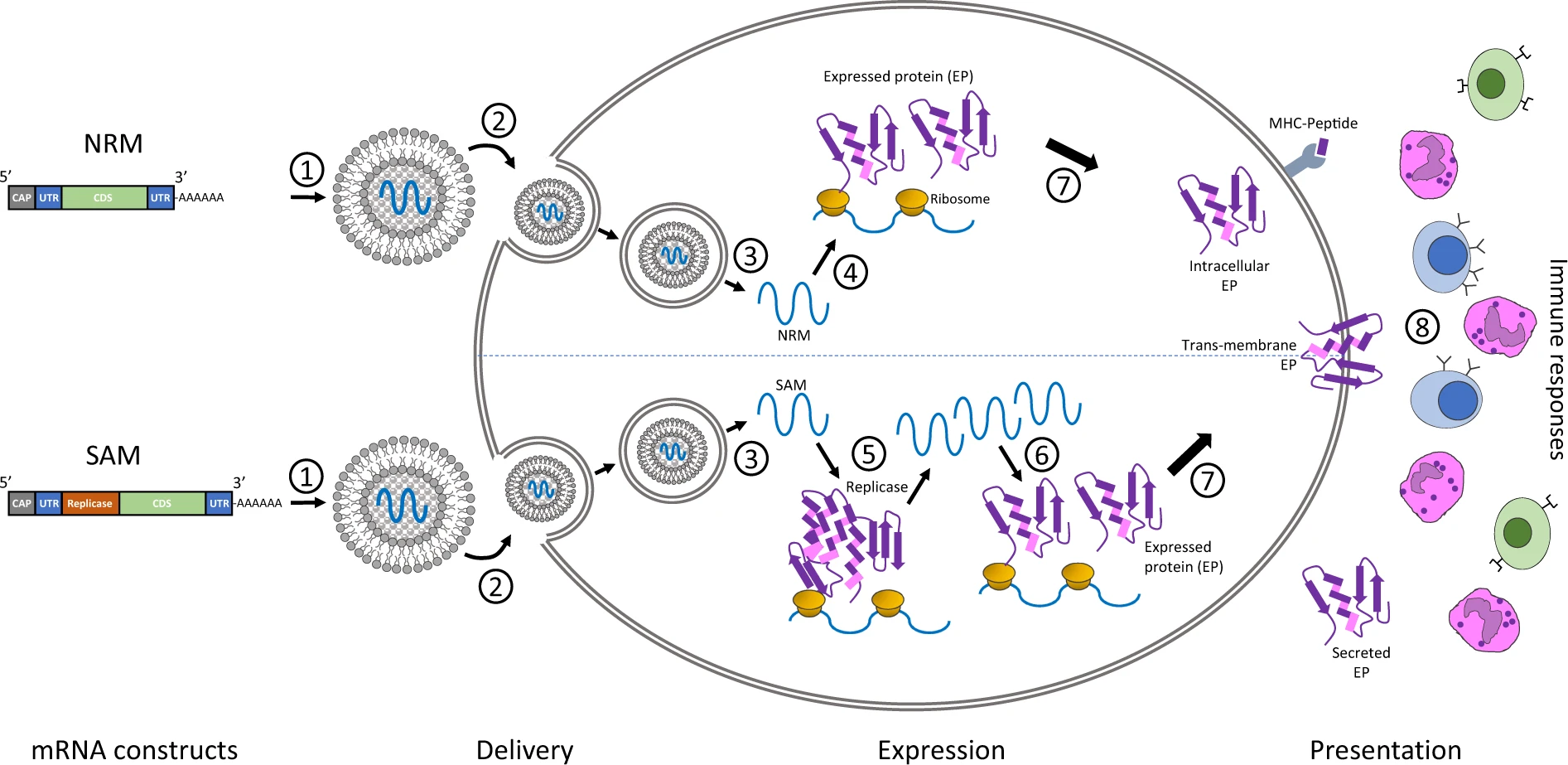 "Delivering the Messenger: Advances in Technologies for Therapeutic mRNA Delivery"
https://www.cell.com/molecular-therapy-family/molecular-therapy/fulltext/S1525-0016(19)30053-X

"Although the mechanism of mRNA delivery by the LNPs is not fully understood, it is generally accepted that these multicomponent LNPs are taken up by endocytosis and can electrostatically attach and fuse with the cell membrane using inverted non-bilayer lipid phases."

А я наивно думал, что это вопрос уровня Биология-101, глава строение клетки, раздел клеточная мембрана - что она пропускает (без участия рецепторов), а что нет.